GIVE KID A BOOK MAY 2023
BOOK DRIVE
"
Share Your Love of Reading, Don'

t 

Just B

uy a Book, 

D

onate 

O

ne 

T

oo."
In May of 2023, our office was proud to be the organizing sponsor for the

 "Give Kids A Book

 Drive

"

, held at our locations ( Dallas Dental Smiles and Hiram Dental Smiles)

. 

We want to express our deepest gratitude

 to our

 staff, 

 patients

, local businesses

 and neighbors 

who demonstrated overwhelming support of the book drive with 

more than 500 books

 donated

. We 

were 

able to donate 

the 

books 

we collected 

to local schools, 

local l

ibraries and 

to s

chools in India.
The idea for the book drive originated when

 Dr.Gudipati asked 

his two children

to donate the books they 

were 

no longer 

reading, 

to someone less fortunate. He was very proudly surprised when his children took it a step further and donated more

 than 20 books

! Dr. Gudipati's children's kind gesture and desire to share their love of reading with others, 

sparked 

a wonderful idea. Dr Gudipati wanted to e

xpand upon the kindness his children had demonstrated and collect 

books from our own team members

, their children, our neighbors and businesses in the local community, as well as, 

our own awesome patients

. Over the course of our book drive we were able to collect more than 500 books! 
In May of 2023, while traveling to India for vacation with his family, Dr. Gudipati and his children do

nated 

hundreds of the 

books

 collected

 to local elementary school 

children

. Books are 

not always affordable for children in India, so the generous donation of so many books, provided many children the opportunity to experience the education, entertainment and joy that only reading can provide. 

Dr.Gudipati

 felt an overwhelming sense of pride in our community, as he witnessed the joy in the eyes of the young recipients, when they realized the books they were receiving were theirs to keep for their very own. 
The donation of these

 books 

from our staff, their families, local businesses and neighbors provided many underprivileged children with t

he gift of learning,

 the opportunity to experience the joy of reading, while also setting an example of 

recycling 

and preserving the 

environment.

 It was a win/win for the recipients, as well as the donors! 
Thanks again to our wonderful team and all our awesome patients who donated and made this event a great success
!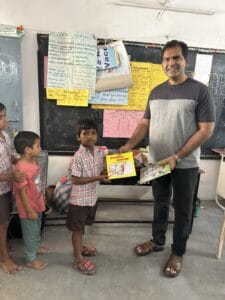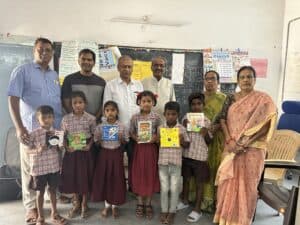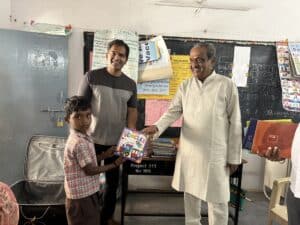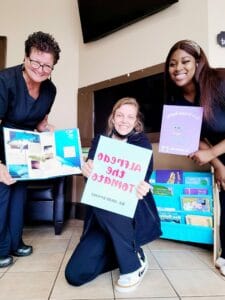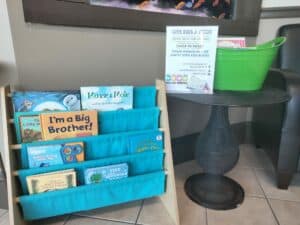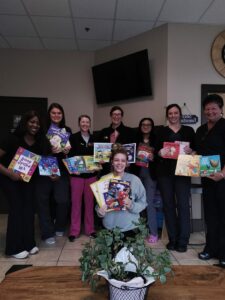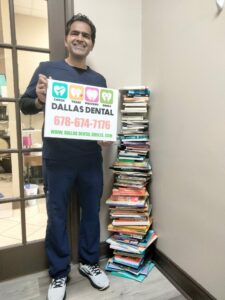 ——————————————————————————————————-
PAULDING COUNTY HEALTH FAIR
OCTOBER 2022
The Hiram Dental Smiles and Dallas Dental Smiles teams participated in the 2022 Paulding County Human Resources Health Fair. The health fair was held at the Paulding County Senior Center for Paulding county employees on Wednesday, September 19th.
Our locations were joined by 15 local businesses focused on health and wellness. The vendors came together to provide educational information, discount opportunities, and fun giveaways for Paulding County employees.
We were pleased for the opportunity to share information about the services we offer with the dozens of employees who signed up and participated in the health fair. Employees who stopped by the Hiram Dental Smiles and Dallas Dental Smiles health fair booth were gifted coffee mugs, water, sweet treats, and more! We held a drawing every 15 minutes for backpacks and lunch coolers stuffed with several goodies as well as gift cards!
All employees who visited the booth were also given the opportunity to be entered in a raffle for an Air Fryer just by giving us a like or share on our Facebook or Instagram pages. Employees can still be entered to win through the month of October just by interacting with us on social media. The winner of the drawing will be announced on our social media pages at the beginning of November.
A huge thanks to Paulding County Human Resources department for the opportunity to participate and to all of the other local businesses who joined us!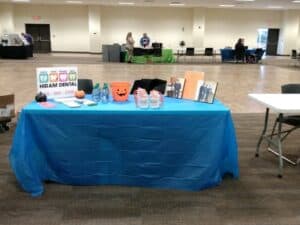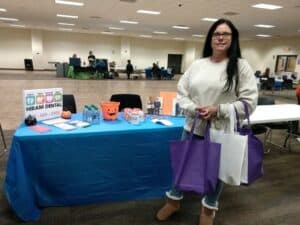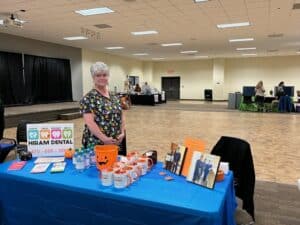 ————————————————————————————————-
FREE DENTAL CARE EVENT
SEPTEMBER 2022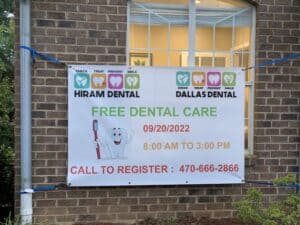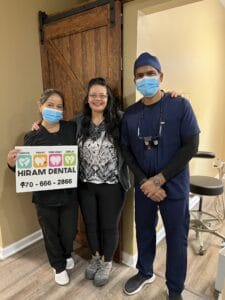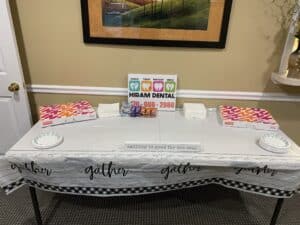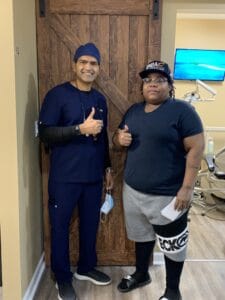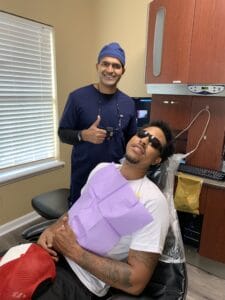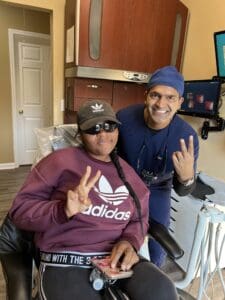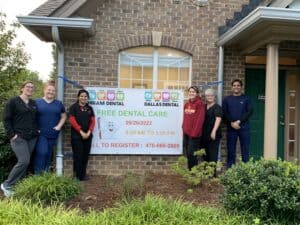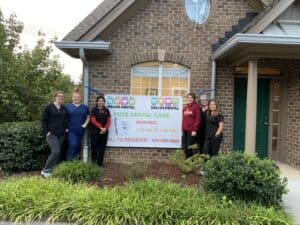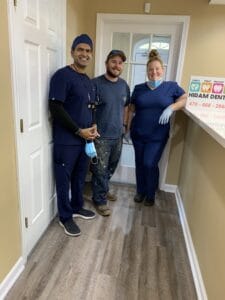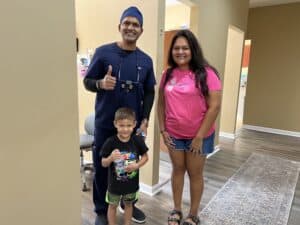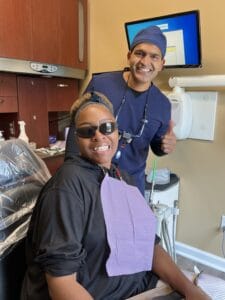 Dallas Dental Smiles and Hiram Dental Smiles doctors and staff held a Free Toothache Clinic on 09/20/2022. The staff and providers teamed up to provide relief to uninsured and underinsured patients in need of emergency dental care, which they could not have afforded otherwise. The team offered free emergency exams, simple extractions and fillings, on a first come, first serve basis, at no cost. Many of these patients had been suffering and were in a great deal of pain due to the inability to afford proper dental care. Together, the team served more than 15 patients and provided nearly $10,000 in free dental care. The clinic was such a great success that we plan to offer it on regular basis and will post more information to our website and social media as future dates are established.
We appreciate the great contributions of our team which made this event a great success!  We are equally grateful to our patients for allowing us the opportunity to care for them and to give back to the communities that we serve!
—————————————————————————————————————————————————————————————————————–
TOOTHBRUSHES DONATION
FEBRUARY 2022
Once again you guys made it happen! We are thankful for all of your likes, shares, reviews, and referrals as it has helped us be able to donate toothbrushes again. This month we were able to donate around 300 toothbrushes to local assisted living and nursing homes and we know all the tenants are very thankful to have a new toothbrush to use. It truly feels great to give back to our community and it's all a big thanks to you (our supporters)!
We delivered to0th brushes to The Pearl Senior Assisted Living Center.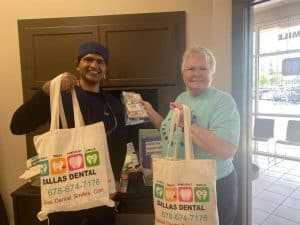 GIVE KIDS A SMILE EVENT
FEBRUARY 2022
Our kids day event today was a success! Every year in the month of February we hold a kids day where we provide free dental cleanings, x-rays, and exams to children in our local community. This year was certainly a hit and nothing short of amazing. We are so grateful to be able to give back to our wonderful community. Thank you all for making our 4 th Annual Give Kids A Smile event a great success. Our doctors, hygienists and assistants and front office team worked hard and helped many kids from Dallas, Ga and surrounding areas, aged 2-12 years providing free dental care including X-Rays, Dental Exam, Dental Cleaning, Dental Sealants. We handed Free toothbrushes and toothpastes.
We get so much happiness in serving the community and giving back every year by this great event. We are Give Kids A Smile supporter since 2018. This is a nationwide event launched in 2013 started by American Dental Association. The vision for this event is to ensure access to quality oral healthcare for all children. To date, over 7 million underserved children have received free oral health services through this program.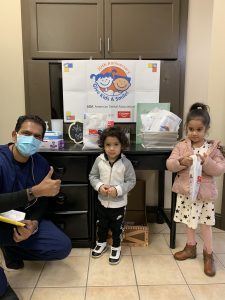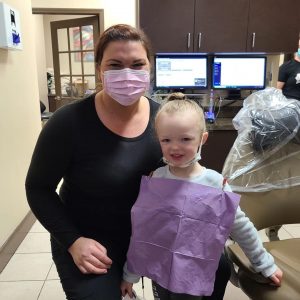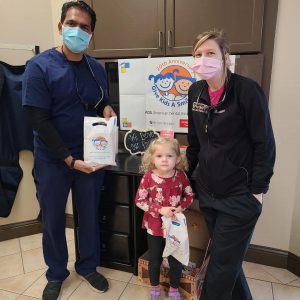 HOLIDAY GIVEAWAY: CHRISTMAS MIRACLE
DECEMBER 2021
We were proud to sponsor our own "Holiday Giveaway" for our patients' family and friends this year. We asked our community to help us by nominating friends or family members who were in need of a helping hand this season. We were honored to have the opportunity to provide a helping hand in providing Christmas for 5 children this holiday season! For the month of December we were able to give back to our local community by helping 2 families in need of a Christmas miracle. These smiling faces under the masks say it all. We are so grateful to help make a child's Christmas an absolute wonderful one this year.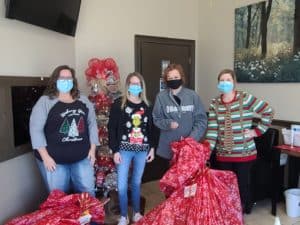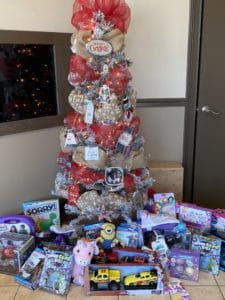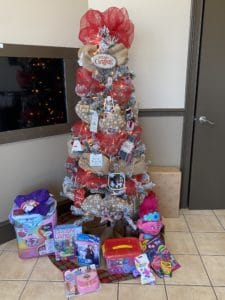 ——————————————————————————————————
COPS FOR KIDS
DECEMBER 2021
We were also honored to donate to the Paulding County Cops for Kids event and help in providing for children and families in need this holiday season. We donated to Paulding Cops For Kids Inc. This is a great event where underprivileged children ages 6 to 13 pairs with a deputy to go shopping for Christmas.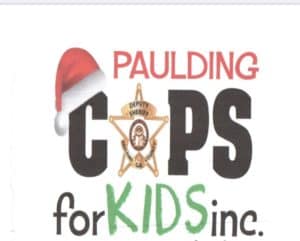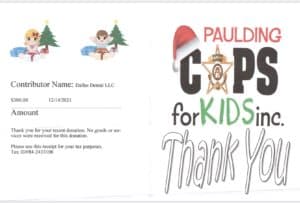 ——————————————————————————————————
TOYS FOR TOTS
NOVEMBER 2021
At Dallas Dental, we love getting into the holiday spirit and giving back to our community during the season of giving! This year, we were happy to be a collection site for Toys for Tots in the Dallas community and to provide toys to those in need.  This is our 4th year participating in Toys For Tots Event. We Appreciate Paulding County Georgia State Patrol who provided us boxes and event details. 
Toys For Tots is a program run by US Marine corpsReserve which distributes toys to children whose parents cannot afford to buy them gifts for Christmas. This is a top rated charity and we are proud to participate as a Official Toy Donation Site and collected a lot of toys for the local kids who will enjoy the Christmas with a toy.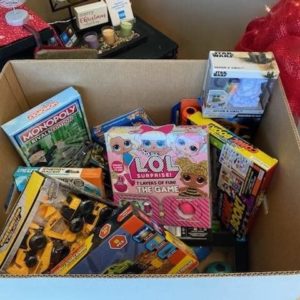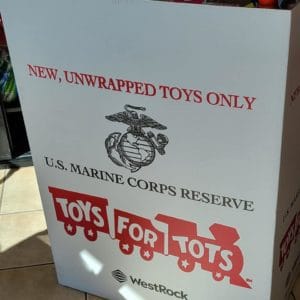 —————————————————————————————————
FIRE RESCUE DONATION
SEPTEMBER 2021
Super grateful to be able to give back to our community. We donated to Paulding county fire rescue for the make a wish foundation that helps children locally in Paulding county!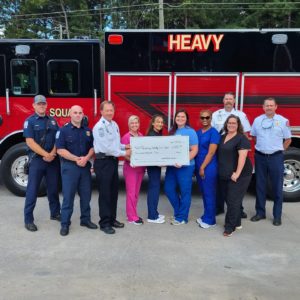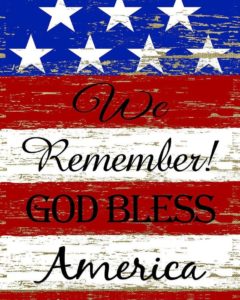 ——————————————————————————————————
Law Enforcement Appreciation Event
SEPTEMBER 2021
In the month of September, we at Dallas Dental are committed to "Never Forget" the many law enforcement officers and first responders who give so much of themselves and risk their lives to serve and protect our community!  This year we were pleased to be able to recognize many of the local first responders who serve the Dallas and surrounding community with a small gift as a token of appreciation.
We were also proud to sponsor the 2021 Paulding Rides for Wishes event. This important event helped to raise money for the "Make A Wish" foundation and make the wishes of some special Paulding County children who are fighting critical illnesses dreams come true!
Thankful for your service to our community!! In honor of all of our fallen heroes from 9/11 we are acknowledging our emergency personnel such as cops, fire fighters, ems, 911 operators, nurses, etc.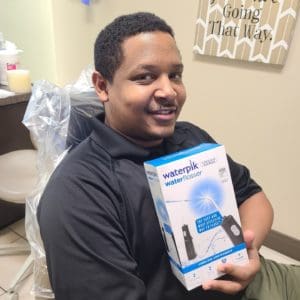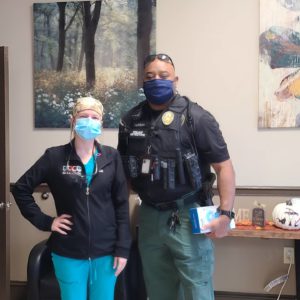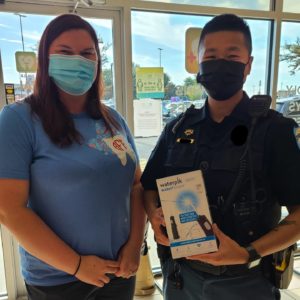 ——————————————————————————————————-
HIGH SCHOOL DONATION
AUGUST 2021
For the month of August we were able to donate 25 book bags filled with school supplies to our local Highschool: Paulding County Highschool. We were also able to donate a $300 check to help support them. We are so grateful for the opportunity to help these students in need in our local community.
——————————————————————————————————
BACKPACK GIVEAWAY EVENT
JULY 2021
For the month of July we were able to donate 25 book bags filled with school supplies to our local Elementary school: C.A. Roberts Elementary. We are so grateful for the opportunity to help children in need in our local community. All the team members of Dallas Dental Smiles helped pack the supplies and its a fun experience for all of us.
—————————————————————————————————-
FATHERS DAY EVENT
JUNE 2021
For the month of June, we decided to give back to some amazing fathers. We asked for nominations for Father's who were deserving of  FREE dental treatment. We were able to select 2 Father's to receive $500 each of FREE treatment. We are so excited to be able to give back to these dads who rock at being Father's! Congratulations to our winners!!!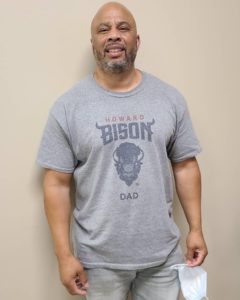 —————————————————————————————————-
MOTHERS DAY EVENT
MAY 2021
May is Mothers day month and we just had to honor our mothers by letting them know how important they are. We asked for nominations for moms that were deserving of our giveaway. We were able to choose 5 lucky moms and give them $200 each off of their dental treatment of their choice. That is totaling $1000 worth of FREE dental treatment. We were honored to be able to do this and we just want to say congratulations to the moms that were selected from our nominations.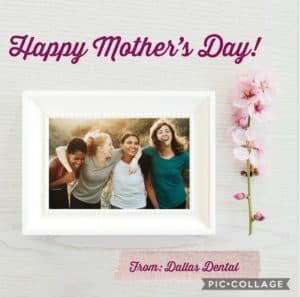 —————————————————————————————————
KINDNESS ROCKS EVENT
MARCH 2021
For the month of March we had a kindness rock decorating contest with our patients. We had our patients take home rocks to decorate and they could send in a picture or bring the rocks up to the office to give back to another patient for them to keep. We have some talented patients for sure! At the end of the month we decided to post them for a vote and the favorite rock won a prize. The favorite rock happen to be the one decorated with flowers, but we thought they all did pretty well. Congratulations to our winner!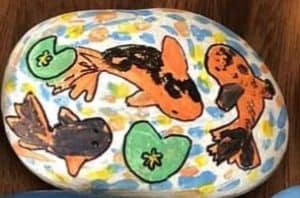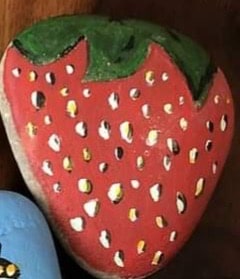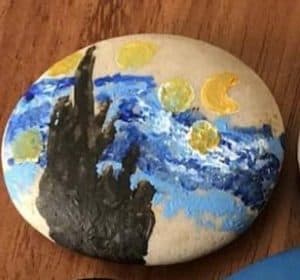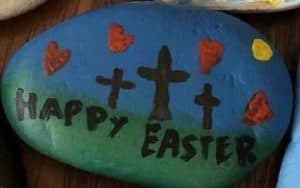 —————————————————————————————————-
GIVE KIDS A SMILE: PAULDING COUNTY DENTIST
FEBRUARY 2021
Give Kids a Smile 2021 was a great success despite COVID-19 pandemic. We are so honored to help the PAULDING COUNTY and DALLAS kids.
Our goal was to keep the kids smiling and healthy and we accomplished that at this event. We look forward to changing many more children's lives one smile at a time.
This is our 3rd Annual Give Kids A smile Event at DALLAS DENTAL SMILES. February is a National Children's Oral Health Month and we promote the benefits of good oral health to children and their caregivers this whole month.
The Awesome team of dental professionals including dentists, hygienists, assistants and front office participated in this wonderful event.
We are able to serve several children on February 25th 2021 with Free Dental Examination, Dental X rays, Teeth cleaning, Topical application of fluoride, Oral hygiene instructions and gave toothpaste and toothbrushes.
We are very thankful for the Paulding county and Dallas city kids for giving us the opportunity to serve our community.
We would like to appreciate our team of dentists, hygienists, assistants and other volunteers for giving their time and talents to ensure that children are given the dental care they need and deserve all across the Paulding county.
---
TOOTH BRUSH DONATIONS
JANUARY 2021
January was such a successful month with our Operation ToothBrush Giveback. We were able to donate well over 200 toothbrushes to local organizations such as Mt. Calvary children's home, Manor Lake Assisted Living and Memory Care, and Kimberly Personal Care Home.
All the organizations were very grateful and we were so happy to help. We keep collecting more brushes and donate as we go. We would like to Thank our patients who participated enthusiastically.
---
TOYS FOR TOTS DRIVE
DECEMBER 2020
DECEMBER 2020 Toys for Tots was a major success this year for our Dallas Dental team!! We are happy to say we had 1 and a half boxes overflowing with toys!! We are blessed to be apart of helping children have an absolutely wonderful Christmas this year! We want to thank everyone who brought in toys to make this happen.  Giving back is something we strive to do each and every month and December was super successful!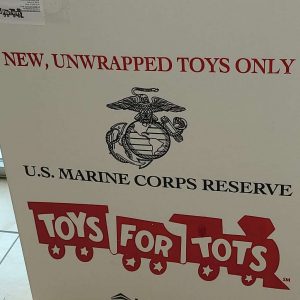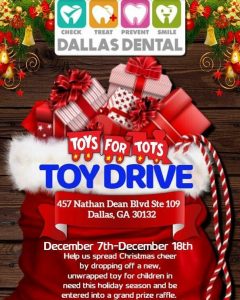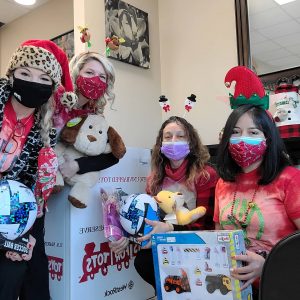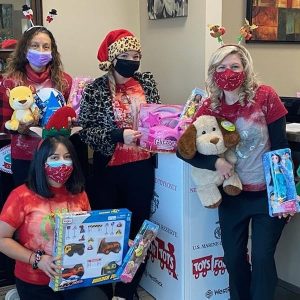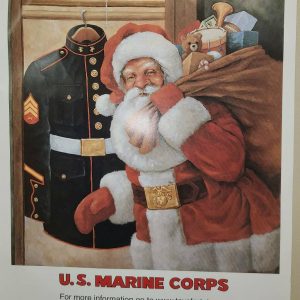 THANKSGIVING EVENT
NOVEMBER 2020
For Thanksgiving our team at Dallas Dental decided to give back to our community by doing a weekly drawing for a gift card to get whatever they needed for Thanksgiving. Every week each patient who visited the office had their name placed in a drawing to win. We were able to draw 4 lucky winners. 2 of which were pictured and 2 that weren't. All of them expressed their gratitude and we are very grateful to be able to do this for them!

FREEDOM DAY EVENT: OCTOBER 2020
"A day of Free, for our lifetime of Freedom"
Dallas Dental Smiles provided free X rays , exam, extraction or filling service for our veterans. Freedom Day USA is America's Largest Military Thank You Event!  One day each year, businesses say "Thank You" by providing a token of appreciation (Free Services, Free Gifts, Special Offers and More) to Active Military and their Immediate Family and to Veterans who visit their business on event day.    This is our way of showing you how grateful we are for your service and for the sacrifices you have made for our freedom.   In fact, Freedom Day USA is a "DAY OF FREE, FOR A LIFETIME OF FREEDOM!"
Giving back to our Veterans for FREEDOM DAY USA felt great! Thank you from all of us here at Dallas Dental for your service to our country!!!

BREAST CANCER AWARENESS : OCTOBER 2020
We support Breast Cancer Awareness! In honor of those who have breast cancer, who survived breast cancer, and who lost their battle to breast cancer!! Prayers for a cure!!!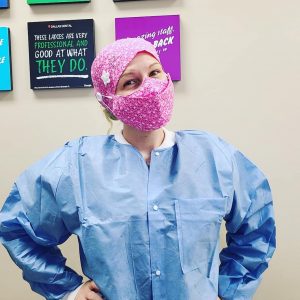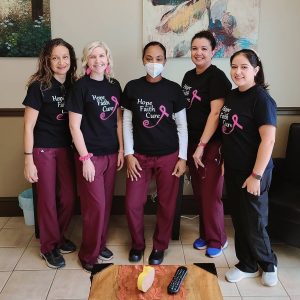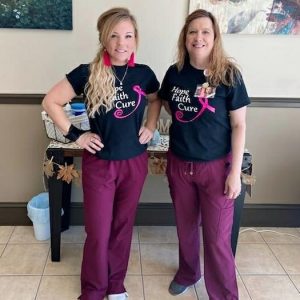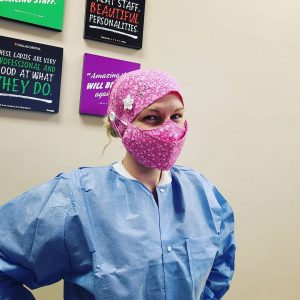 SEPTEMBER 2020: CHILDHOOD CANCER AWARENESS MONTH
Doing our part to kick childhood cancer in the teeth!
September was childhood cancer awareness month! We raised money to donate to those sweet children in need. Cancer is such an ugly disease and no child should have to endure it. We always want the community to know we are giving back to them as a way to say thank you. We want to say thank you for all the donations and dedication. Here at Dallas Dental we are doing our part to kick childhood cancer in the teeth! We are also praying for all of those children affected by cancer.
Thank you for all the donations for childhood cancer awareness month! .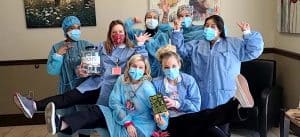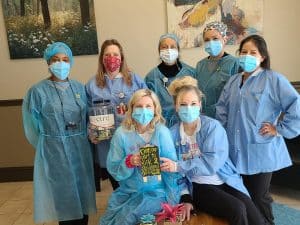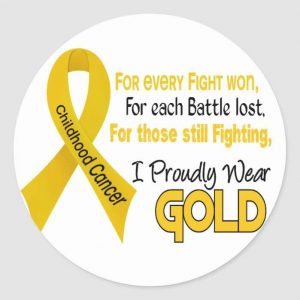 DALLAS DENTAL KINDNESS ROCK PROJECT: JULY 2020
During all the chaos in the world going on here at Dallas Dental we want to make our patients feel kindness flowing from us from the moment they walk in the door. We decided to create a kindness rock project for our patients to take one home, to hold while they are in the dental chair, or to put in a place where they can see it all the time. We hand painted these with love to share more kindness to others!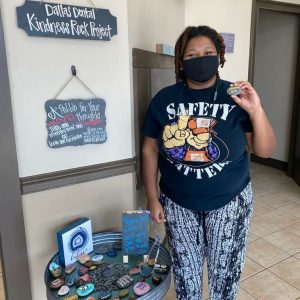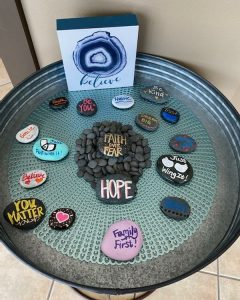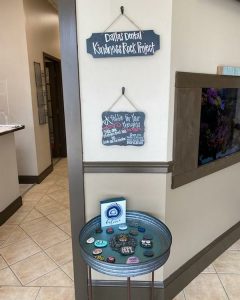 ————————————————————————————————-
FATHERS DAY EVENT JUNE 2020
At Dallas Dental Smiles, we wanted to take the time and honor our amazing fathers for everything they do! So with our token of appreciation we wanted to give a small gift to some of the awesome dads that come into the office. Keep being great leaders!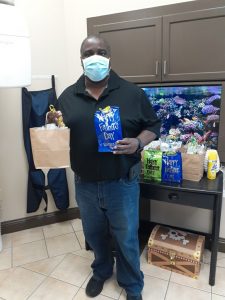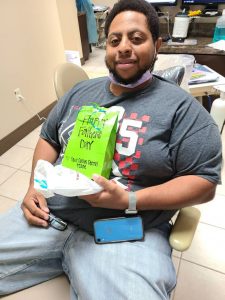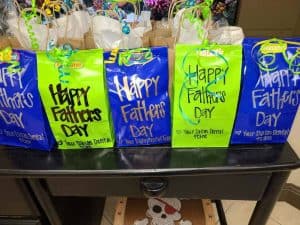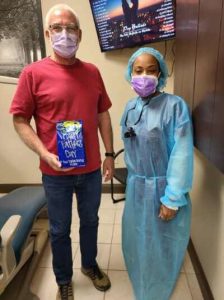 ——————————————————————–
Dallas Dental Smiles Response to COVID-19
At Cumming Dental Smiles, we came together as a community during this pandemic crisis and helped the people in need.
We donated head bands to the local hospital systems.
We donated 100 free dental consults on phone during the shutdown.
Donated Gloves and masks to surrounding subdivisions to prevent COVID-19 spread.
Donated groceries to the needy.
Donated care packages for elderly so they don't have to go shopping.


—————————————————————————————
MOTHERS DAY EVENT AT DALLAS DENTAL SMILES
MAY 2020
Happy Mothers day to all the wonderful mothers out there! We also can't wait to bless a few of our patients with some mothers day gifts! 💜
Some of our beautiful patients and her mothers day gift 💜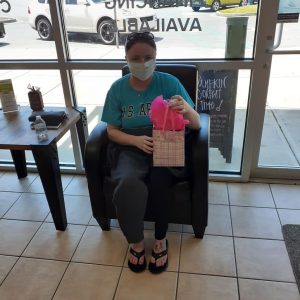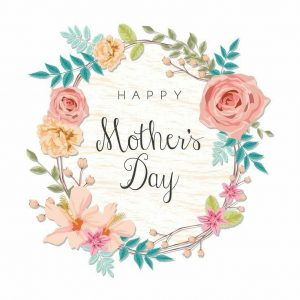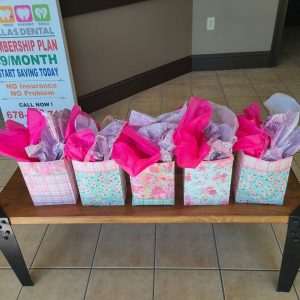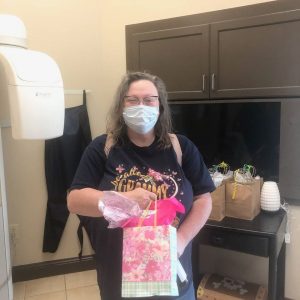 —————————————————————————————————————————————-
CARE FOR CAREGIVERS EVENT DURING COVID-19
APRIL 2020
Its that time again to give back to our community as we always do!! This month we were wanting to do head bands and face masks for our local hospitals, unfortunately, our fabric got canceled. However, we were still able to do the headbands and for that we're grateful! We donated roughly 50 headbands to well star Paulding to help the medical staff. This will help them attach their masks to the headbands instead of their ears. We're thankful to be able to help during this time of need. Love your Dallas Dental team!!!
---
MARCH OF DIMES
MARCH 2020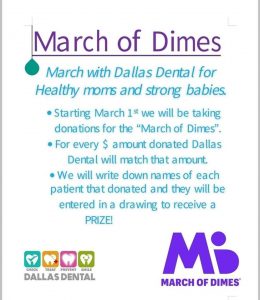 —————————————————————————————————————————————-
GIVE KIDS A SMILE 2020
It was a great success this year with "Give Kids A Smile". We served underserved children of Dallas and surrounding towns of Paulding County on February 21 st 2020. We are doing this event since multiple years and every year we do it in February, which is Children's Dental Health Month.

Give Kids A Smile is a national program launched by American Dental Association to serve underserved children. Dental Caries is the most prevalent childhood disease which causes pain, swelling, missing school.

In this event we did Free X -Rays, Exam, Oral Health Education, Fluoride and Cleaning for kids aged from 2 to 12 years.

Dallas Dental Smiles appreciates the team who generously served the patients along with Volunteers from the community. We also thank Henry Schein for sending us the supplies.

————————————————————-

CAN FOOD DRIVE 2020

"Helping hands of Paulding county"

Dallas Dental Smiles is proud to help the Helping Hands of Paulding County in the Can Food Drive in January 2020.

We greatly appreciate our team in spending time collecting the can food from our patients.

Paulding County Helping Hands is a non-profit Christian Organization uniting the community to actively assist among our neighbors in need. As Paulding County does not have a homeless shelter, social services and emergency aid from Helping Hands assists Paulding County families with rent, energy, food and medications.

We collected more than 50 cans in the one month drive in January 2020 at our Dallas Dental Smiles Office.

——————————————————————

TOYS FOR TOTS 2019

United States Marine corps runs this great campaign which distributes toys to children whose parents cannot afford to buy them gifts for Christmas.

We really appreciate the turnout of donations from our patients, team members and neighbors.

We chose to do Toys For Tots Campaign as it is a very effective program delivery and fiscal responsibility is top rated.

We are very proud to be part of this campaign in Dallas,Ga as it plays an important role in the development of our children who are our most valuable resource.

Toys for Tots at Dallas Dental Smiles made a small contribution to better our community and also bring Joy and happiness to the children in need.

—————————————————————————

BLOOD DRIVE 2019

Dallas Dental Smiles, Dallas, Ga Affordable Dentist collaborated with Life South, a community blood center which collects the blood from donors and helps patients in our local hospitals.

We are honored to join in the mission to provide a safe blood supply that meets or exceeds the needs in our community we serve.

We are thankful for the staff of Dallas Dental smiles and our patients and community of Dallas,Ga and Paulding County for donating blood and making this blood drive a success.

Life South serves many hospitals in the metro Atlanta and Emory Medical, Wellstar, Grady and Piedmont Hospitals.

 

———————————————————————————

APPRECIATION WEEK EVENT 2019
————————————————————————————————————————————–
GIVE KIDS A SMILE 2019

Through Give Kids A Smile program launched by the American Dental Association, our dentists and team  at our Dallas Dental Office with some volunteers helped under served children. We helped kids with Free X-Rays and Examination with Cleaning. Gave all the kids Tooth Brushes, Tooth Pastes and Oral Health Education Videos.


Dallas Dentists at Dallas Dental Smiles provided quality full- service dentistry free of charge to children with inadequate access to dental care. 

History: Give Kids A Smile was launched nationally by ADA in 2003 and more than 5.5 Million under served children have received free oral health services.
We are proud to be volunteer member of Give Kids A Smile in Dallas,Ga.

 RUN WITH THE BADGES 2018

Run with the Badges  was a 5k run that was put on by Paulding County.  They had registered over 1200 runners to run a night marathon.  All the proceeds went to help out all of the local EMS, Fire, Police and so forth with better equipment and training.  Dallas Dental Smiles provided waters, glow sticks and Popsicles for the event as well as giving out tooth brushes. We are proud to be partnered with our Public Safety Team.

 SOUTH PAULDING MIDDLE SCHOOL CAREER DAY 2018

South Paulding Middle School invited Dr McMiller to come speak at their 2018 South Paulding Middle School Career Day.  Dr McMiller and Lauren were both given a list of possible questions they may be asked and they filled out and went to school; that morning to answer questions from the students in regards to being in the dental field.
TOYS FOR TOTS 2018
The Marine Toys for Tots Program has been delivering a message of hope to less fortunate youngsters since 1947. Thank you for sharing more than 50 toys with Dallas Dental, Dallas,Ga. We sent them on time to U.S. Marine Corps to distribute these toys to children whose parents cannot afford to buy them gifts for Christmas.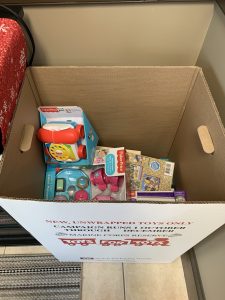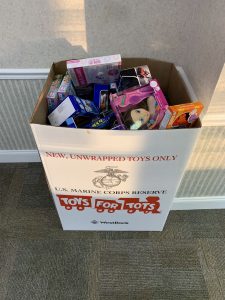 Thank You for making Toys For Tots Successful.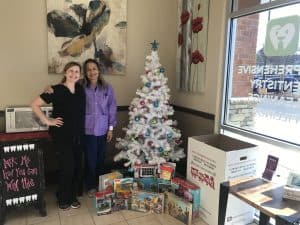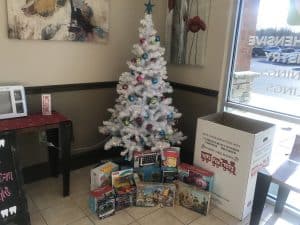 Get in Touch