Zachary Patterson, DMD

Dr. Zachary Patterson is
originally fr

om Fi

tzgerald, Georgia. He moved to Au

gusta, Geor

gia

to pursue his career in healthcare by rec

eiving his Bac

helors in Kinesiology in 2016, from A

ugusta Univ

ersity, and his Doctorate of Dental Medicin

e, in 2020,

from the Dental College of Georgia at Augus

ta Univers

ity. He works hard to continue to learn the best

way to h

elp patients feel comfortable with their questi

ons and

oral health care treatment. He is excited to be

a new

part of the team and to guide and help all the patie

nts h

e can.
Professional A
ffi

liations:
The American Dental Assoc
iatio

n (ADA)
The Georgia Dental Associa
tion

(GDA)
—————————————————————————————————-
Dev Jain, DMD, MBS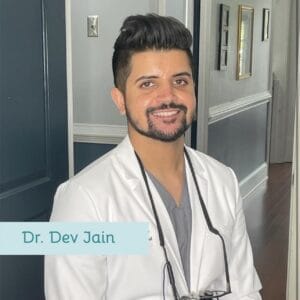 Dr. Dev Jain was born and raised on Long Island, NY. He studied Chemistry and Psychology at Stony Brook University, where he received a Bachelor of Science Degree. He then studied in Newark, NJ where he earned a Master of Biomedical Science Degree at Rutgers University. During his graduate studies he focused on Oral Biology and Oral Health Research. He studied and was trained in Dental Medicine in Pomona, CA where he earned his Doctor of Dental Medicine Degree at Western University of Health Sciences. Following graduation, Dr. Jain relocated to the Atlanta suburbs.
He has traveled to the Dominican Republic with Volunteers Around the World on a dental mission to bring care to underprivileged areas. He continues to volunteer his help to local and international organizations when possible. Dr. Jain is an active member of multiple local and national dental organizations which allows him to stay up to date on cutting edge technology and new dental research.
In his free time, Dr. Jain enjoys playing guitar and bass guitar as he has been a musician for over 20 years. He also enjoys staying active by playing basketball and going hiking.
Dr. Jain is known for providing excellent dental care with a gentle touch. The patient's comfort is always his top priority. He takes immense pride in his profession and greatly enjoys what he does every day. He is committed to helping each patient achieve their oral health goals.
Education
D.M.D., Western University of Health Sciences
M.B.S., Rutgers University
B.S., Stony Brook University
—————————————————————————————————–
Praveen Gudipati, DMD, MPH, FAGD

Dr. Gudipati studied and practiced dentistry in India for 2 years before moving to the US and receiving his DMD degree at Boston University in 2007. He also has a Master's in Public Health from Western Kentucky University in Bowling Green,KY.
Dr. Gudipati's professional affiliations include:
The American Dental Association

The Georgia Dental Association

The Northern District Dental Society

The Academy of General Dentistry

The International Association of Implantology
Continuing Education
Dr. Gudipati has completed over 600 hours of continuing education and earned Fellowship with the Academy of General dentistry. He has also taken many professional courses including dental implant studies and Level I and II training on 6 Month Smiles.
Get in Touch